-Sound enhanced website

*Voted Best Of The Web~ 2007, 2008, 2009, 2010, 2011, 2012, 2013, 2014 & 2015 For Patient Education And Medical Information

-Reaching out to over 8 MILLION and still growing strong!

We are the one and only OFFICIAL Gastroparesis Awareness Organization since 2006
DO YOU HAVE GASTROPARESIS? IF SO YOU HAVE COME TO THE RIGHT PLACE. WE ARE HERE TO HELP YOU!

Dave, Mike, Donna, Pam, Tae, Pat, William, Michelle, KimberlyH

Gastroparesis Awareness Campaign Team
www.gastroparesisawareness.com
www.gastroparesisawareness.net
www.gastroparesisawareness.org
Gastroparesispatientsgroup-online support group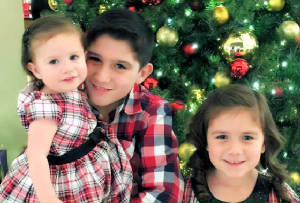 February 9th, 2016: BRAIN CANCER

In Honor of Mikey

Michael Leija Jr was diagnosed January 21, 2016 with brain cancer (Mixed Germ Cell Tumor). Michael (Mikey) is only 10 years old. He is the son of Michael and Valerie Leija, he is a lively bright caring happy go lucky gentleman.

I am starting this fund in his honor, I am the Godmother to one of his younger sisters. I have known Mikey since he was growing inside his mother's womb, Valerie (Val). I have been one of Val's best friends for several years and I have seen Mikey grow and mature into the wonderful soul he is.

I'll begin with how they caught his cancer, a little history on him since he's barely 10 and hasn't experienced a full life yet, and his treatments.

He had told his mother days before being diagnosed that he was suffering from headaches. Both Mike and Val felt something wasn't right and took him to the local ER. There they told her that there was something unusual in his CT scan and that they would need to medically transfer him to another hospital over 150 miles away. He arrived in San Antonio's Methodist Children's Hospital on January 19, 2016 at 9pm with his father. For the next few days they ran more tests on him and discovered that his brain tumor was inoperable because of its location. They were fortunately able to drain some of the built up fluid that was causing the headaches with a difficult and very slow surgical procedure. Entering first from the top right side of his scalp traveling downward along his cranium, entering through his eye socket, moving downward still to reach the base of his head, traveling back up towards the center of his brain to reach the tumor and alleviate some of the pressure.

Mikey, up until his diagnoses was a perfect attendance student, loves the San Antonio Spurs, Dallas Cowboys, wrestling, swimming, hanging out with his friends, and cracking jokes. He has two younger sisters, Maddie 6 years old and Meg 18 months, and he is very excited that his mom is expecting another baby.

His first round of chemotherapy was February 4, 2016 at Methodist Children's Hospital where he will go through 18-20 weeks of chemo treatment before going to MD Anderson for radiation. Since Val is pregnant she isn't able to be with him at all times nor will she be able to be around him for several days at a time once he begins radiation.

This fund is to help pay for not only his medical bills, but for all the expenses that are quickly mounting up for the family. Val and Mike both have to miss work to travel the 300 miles round trip for each treatment, and stay a few days at a time in San Antonio away from their family.
The Gastroparesis Awareness Campaign has been such a huge success helping to spread international Gastroparesis Awareness for so many that we feel it's just as important to help others that maybe don't suffer from GP, but from other serious medical conditions such as Cancer. This evil beast also rings far too close to home. It has touched not just our life, but the lives of many of our family members, friends, loved ones and fur Angels. As a team, our greatest hope is to be just as successful with this huge event helping to raise Cancer Awareness in support of those who bravely battle each and every day, as we have been over the past 10 years with raising Gastroparesis Awareness.

As patients, our unique medical journeys are only divided by the name of our condition. What we struggle and fight for each and every day are one in the same. HOPE and a CURE.
Take the challenge by committing to 140 miles for 30 days starting February 1, 2016.

Doing so will help in raising awareness for the most rare forms of cancer.

*Proudly sponsored by the Gastroparesis Awareness Campaign

*Click on left tab for more information

CLICK LINK BELOW TO JOIN THE OTHER 990,205 READERS FOLLOWING A GASTROPARESIS PATIENTS LIFE:
The Road Before & After Surgery/Gastroparesis Life 2016

KEEP ON! KEEPING ON!

Sharing my journey with others in hopes of inspiring the great fight for life!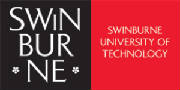 Researchers from Swinburne University in Australia want to learn more about what it's like to live with Gastroparesis.
You can help them by completing an online questionnaire:
*This new study is an online questionnaire that explores how individuals experience Gastroparesis and how it impacts upon their life. It is open to adults with Gastroparesis from anywhere in the world, and takes about 45-60mins to complete.
The Gastroparesisclinic.org offers FREE information and a 6-week psychologically-focused support program for individuals who live with Gastroparesis. The online treatment program brings together validated psychological treatments such as cognitive behavioral therapy and mindfulness therapy; both treatments have been shown to be effective in reducing the symptom severity and psychological distress associated with Gastroparesis.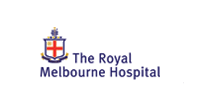 The Gastroparesis Awareness Campaign is honored to join hands with the Royal Melbourne Hospital & Swinburne University of Technology located in Hawthorn Victoria, Australia by announcing their new online Gastroparesis-focused information and psychological support service.

"Gastroparesisclinic.org"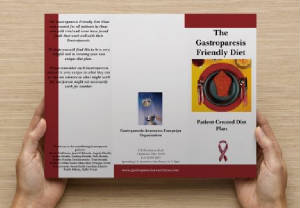 AVAILABLE ONLINE!
'The Gastroparesis Friendly Diet'
Helping those with Gastroparesis by providing better food choices!
*Created by Gastroparesis patients through years of food trial and error
-See left tab for more information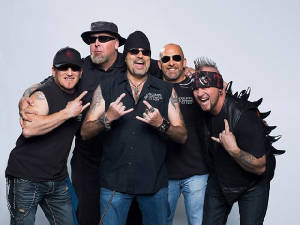 A Huge "SHOUT OUT!
Counts Kustoms-Counting Cars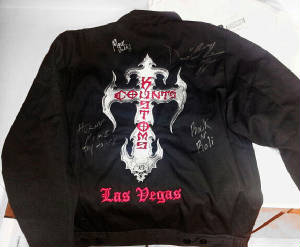 Many, many thanks to Danny, Mike, Roli, Scott, Kevin & the entire crew at Counts Kustoms for honoring those who fight the great GP fight!
~KH-Founder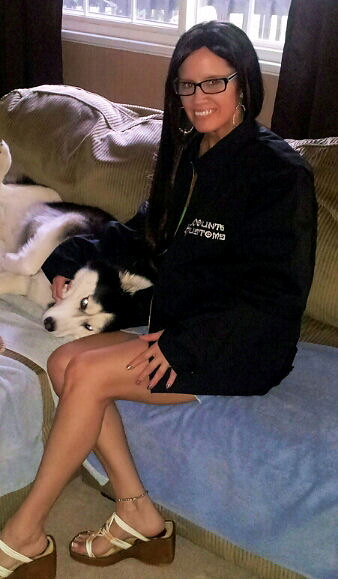 From the hit movies, Mean Girls, The Big Wedding & A Million Ways To Die In The West
AMANDA SEYFRIED
Joins hands with the Gastroparesis Awareness Campaign Team helping to spread Gastroparesis Awareness!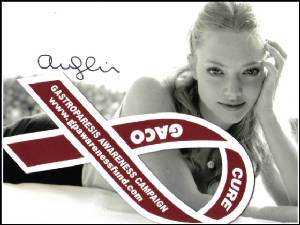 Amanda Michelle Seyfried began her career as a child model when she was 11 and at 15 began her career as an actress, starting off with uncredited roles and moving on to recurring roles on As the World Turns and All My Children.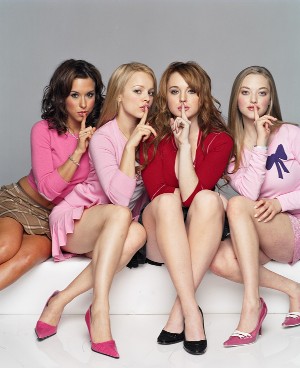 In 2004, Seyfried made her film debut in Mean Girls. Her subsequent supporting roles were in independent films, such as Nive Lives (2005) and Alpha Dog (2006) and she also had a recurring role in the UPN TV show Veronic Mars (2004–2006). Between 2006 and 2011, she starred on the HBO series Big Love. After that, Seyfried appeared in her breakthrough role in the 2008 musical feature film Mamma Mia! Her other appearances include leading roles in Jennifer's Body (2009), Chloe, (2009), Dear John (2010), Letters to Juliet (2010), Red Riding Hood (2011), In Time (2011) and Gone (2012). She played Cosette in the musical film Les Miserables (2012), The Big Wedding (2013) and Seth MacFarlane's frontier spoof, A million ways to die in the west (2014).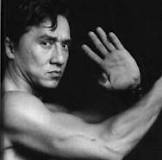 "JACKIE CHAN"
Joins the Gastroparesis Awareness Campaign Team!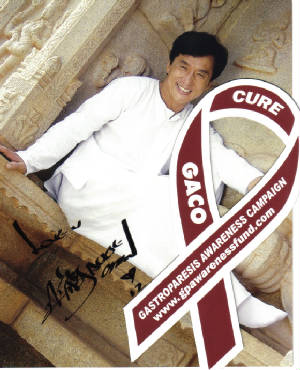 Jackie Chan, (born Chan Kong-sang, 陳港生; 7 April 1954 in Hong Kong) is a Hong Kong actor, action choreographer, comedian, director, producer, martial artist, screenwriter, entrepreneur, singer, and stunt performer. In his movies, he is known for his acrobatic fighting style, comic timing, use of improvised weapons, and innovative stunts. He is one of the few actors that did all of his stunts in all of his films. Jackie Chan has been acting since the 1960s and has appeared in over 150 films.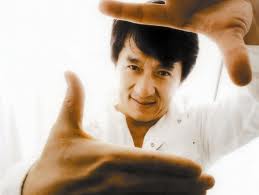 Jason Lively & Cast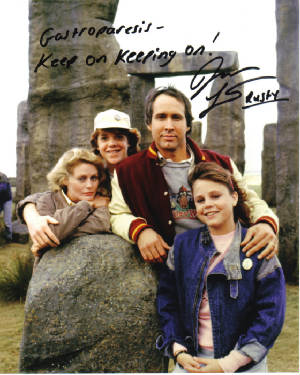 Helping to raise GP Awareness & Education
Gastroparesis guest speakers available for special events.
For further information please send offline requests to:
John Travolta & Family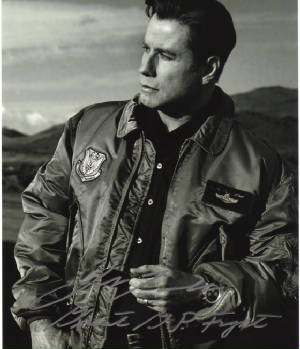 Continuing joining hands with the Gastroparesis Awareness Campaign Organiztation


THE GASTROPARESIS AWARENESS CAMPAIGN SUPPORTS
"KNOTS OF LOVE"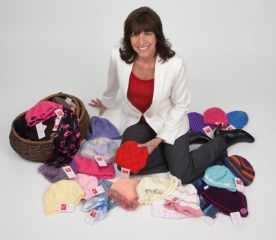 Christine M. Fabiani-Founder, Executive Director
Knots of Love's primary goal is to brighten the lives of those in need with kindness and love. All Knots of Love creations are given free of charge to people who are battling cancer or other life-threatening illnesses or injuries.
Kimberly, Founder & Patient-Gastroparesis Awareness Campaign Org.
Thank you to Christine and her amazing organization along with the many volunteers who give their time helping to spread love and support to patients all over the world, "ONE KNOT AT A TIME!"

Gastroparesis Patient Advocate-Pennsylvania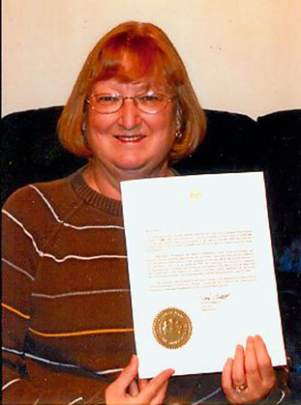 Debby With The Official March 2013 Gastroparesis Awareness Proclamation
What is Gastroparesis?
Gastroparesis is a digestive motility disorder where the vagus nerve is damaged. The muscles and nerves of the stomach, intestines and other GI organs become paralyzed. This condition delays food emptying from the stomach and other GI organs which can result in serious complications and further gastrointestinal problems. 1 out of every 2 diabetics will develop Gastroparesis. This is 50 percent of all patients.
-National Institutes of Health estimates there are over 5 million Gastroparesis patients in the United States. Lack of medical education of Gastroparesis and patients not being properly diagnosed are still left untreated, suffering in silence.
*Gastroparesis is most commonly caused by diabetes, but can also be hereditary or occur as a result of surgery on the stomach or vagus nerve, viral infections, food poisoning, MS/Multiple Sclerosis, Parkinson's disease, ALS/Lou Gehrig's disease, stroke, medications that slow contractions in the intestines such as anticholinergics and narcotics, gastric bypass, lap band, gastric sleeve surgery, smooth muscle disorders, Scleroderma, Amyloidosis, gastro esophageal reflux disease, metabolic disorders, autoimmune diseases, Mitochondrial Disease, chemo/radiation therapy, Bells Palsy syndrome, Ramsey Hunt syndrome, Anorexia nervosa and Bulimia.
*Idiopathic Gastroparesis has no known origin. Many diagnostic tests can be performed however it is still unknown to the medical profession the cause of those patients who suffer from this more rare type of Gastroparesis.
"The Gastroparesis Awareness Campaign Organization"
Our mission is to spread world wide international public awareness and education for this debilitating GI disorder.
The most important issue will be continued communication with local Government on increasing federal funds for research and development. We also hold yearly public awareness activities helping to educate all state citizens and health professionals about Gastroparesis. The Gastroparesis Awareness Campaign team keeps in close communication with current bio-tech companies conducting research for possible future Gastroparesis drugs.
*Don't forget to check back in spring 2016 for our new Gastroparesis Awareness Campaign t-shirts and the official Gastroparesis Awareness magnetic ribbons.
TOGETHER WE WILL FIGHT FOR A CURE!
Gastroparesis Patient Advocate-Texas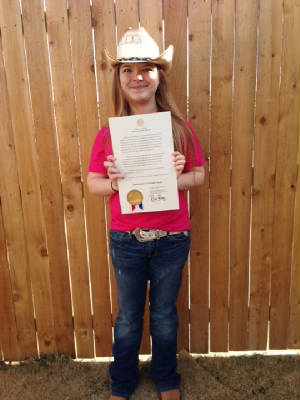 Kaitlin With The Official March 2013 Gastroparesis Awareness Proclamation

-The Key to Success for Gastroparesis is Awareness
A huge THANK YOU to all of our Governors!
*In response to the open hunting of wolves in the states of Wisconsin and Minnesota the Gastroparesis Awareness Campaign has decided to no longer affiliate with either state government but will continue providing support for ALL Gastroparesis patients residing in both states. We do not condone hunting as a sport of these sacred animals.
God's creatures both big and small quickly replace what lacks in compassion with society. Animals bring what patients who are sick and terminally ill need, which is, "Unconditional Love and Companionship."
-The Gastroparesis Awareness Campaign Team & Founder
Many Thanks To:
Governor Susana Martinez of New Mexico-Gastroparesis Awareness Month-May 2013
Governor Nathan Deal of Georgia-Gastroparesis Awareness Month-May 2013
Governor Tom Corbett of Pennsylvania-Gastroparesis Awareness Month-March 2013
Governor Rick Perry of Texas-Gastroparesis Awareness Month-March 2013
Governor John. R Kasich of Ohio-Gastroparesis Awareness Month-October 2011
Governor Mike Beebe of Arkansas-Gastroparesis Awareness Month-October 2011
Governor John A. Kitzhaber, M.D. of Oregon-Gastroparesis Awareness Month-June 2011
Governor Chet Culver of Iowa-Gastroparesis Awareness Month-July 2010
Governor Martin O' Malley of Maryland-Gastroparesis Awareness Month-February 2010
Governor Charlie Crist of Florida, Governor Jim Gibbons of Nevada-Gastroparesis Awareness Month-August 2009
Governor David Paterson of New York, Governor Bev Perdue of North Carolina-Gastroparesis & Digestive Awareness-June 2009
Governor Deval L. Patrick of Massachusetts-Gastroparesis & Digestive Awareness-February 2009
Governor Haley Barbour of Mississippi-Gastroparesis & Digestive Awareness-August 2008
Governor Edward G. Rendell of Pennsylvania-Gastroparesis & Digestive Citizen Awareness-May 2008
Governor Phil Bredesen of Tennessee-Gastroparesis & Digestive Awareness-April 2008
Governor Joe Manchin III of West Virginia, Governor Ted Kulongoski of Oregon-Gastroparesis & Digestive Awareness-March 2008
Governor Dave Freudenthal of Wyoming, Governor Kathleen Babineaux Blanco of Louisiana, Governor Ted Strickland of Ohio, Governor Mitchell E. Daniels Jr of Indiana-Gastroparesis & Digestive Awareness-March 2007
Governor Janet Napolitano of Arizona & Governor M. Jodi Rell of Connecticut-Gastroparesis & Digestive Awareness-October 2007
Governor Mark Sanford of South Carolina-Gastroparesis & Digestive Awareness-December 2007
Governor James E. Risch-Idaho-Gastroparesis & Digestive Motility Awareness-October 2006
Governor Ernie Fletcher-Kentucky, Governor Bill Richardson-New Mexico, Governor Jennifer M. Granholm-Michigan, Governor Rod Blagojevich-Illinois, Governor John E. Baldacci-Maine, Governor Matt Blunt-Missouri, Governor Jon S. Corzine-New Jersey, Governor Christine O. Gregoire-Washington-Gastroparesis & Digestive Awareness-May 2006
*All original & official state proclamations are the sole possession of the
Gastroparesis
Awareness Campaign Organization. We are not affiliated with any other
G
astroparesis
or GI organizations.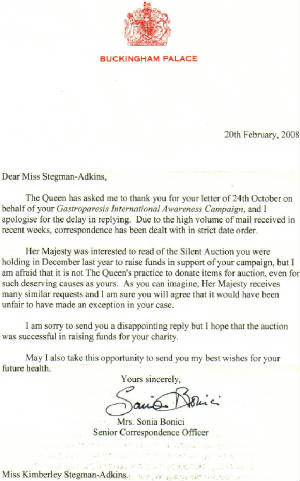 Queen Elizabeth & The Prince of Wales show their Gastroparesis Awareness Campaign support!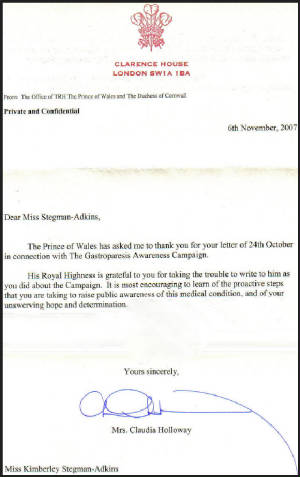 As of February 1, 2016 the Gastroparesis Awareness Campaign has successfully filled over 8,812,397 server requests helping to raise awareness and educate people worldwide on Gastroparesis.

Let's continue to grow these numbers and never give up the fight!

KEEP ON! KEEPING ON!

Gastroparesis Awareness Campaign Organization

© February 27th, 2006

Email:

Spreading International GP Awareness One Person At A Time.

You My Friend Will Never Again Walk Alone.